I was back home from the hospital. My little baby was a few days old and took my breath away at every glance at him. I couldn't believe that pregnancy was over and I actually got to meet this person who put me through so much but whom I loved like nothing else in the world. As I lay in bed while he took a nap, a message came in on my phone… "Hey! Here are pictures from last weekend."
Before I saw the pic, I smiled at the memories. I was looking and feeling so good that Saturday. I had taken the time to get my hair done and make up was on point. Though my hips had been hurting so bad I was determined to play it off as best as I could and walk as sexy as I could muster up. My last glace at the mirror before I hopped in the car that night, I thought "Giiiirrrrrrrl! Better check you out"
So I clicked the pic to be wowed by how hot I was…  but HOLY SMOKES, I about passed out! I looked like that?! Wait wait wait… Who is that person!?! I burst out laughing and was proud of my ability to maintain my self confidence that day. Cause… well you be the judge! Haha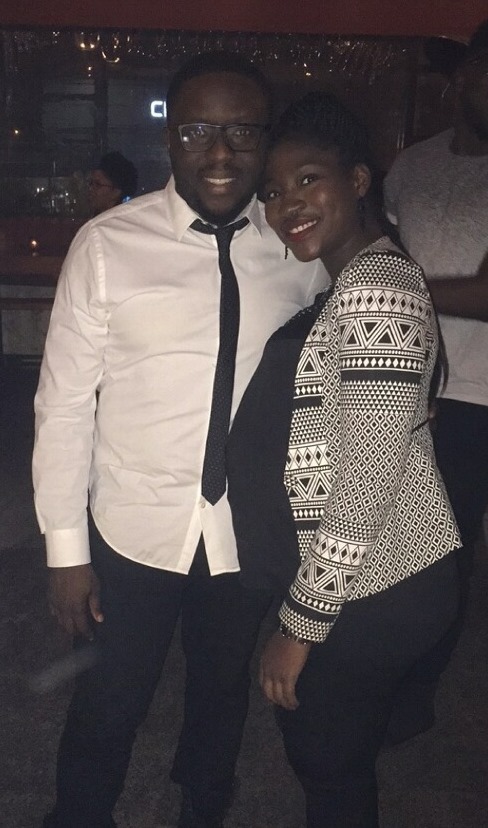 See, in pregnancy doctors recommend that women should gain 25-30lbs. I was so determined to stay within that bracket. After all, Makkoy had preggo life figured out right??.. Uh Wrong!  By week 15 my plans started to go off the rails and it didn't matter what I tried, the number on the scale just kept on free-styling. I was bummed out and couldn't tell anyone… not even hubby. He thought it was a joke the first time he asked how much I gained and I didn't answer… until I was in labor and the doctor asked my weight so I could get an epidural… I looked him straight in the eye "Babe turn around"… then mouthed it to the doctor. Haha. The doctor was so irritated as he wondered how I had time to be bothered by such rubbish in as much pain as I was. Lol
Now let me repeat… the recommended weight gain is 25- 30lbs… the week before I had him… I had gained a whooping 60lbs! YESSSSSS! Feel free to judge. Haha. Honestly, initially I freaked out but after a while I just pretended the number on the scale wasn't real. By the time I had my baby, I was ready to drop the weight but again my body had other plans. Instead of hopping to the gym from the hospital… it took 5-6 weeks for me to heal and feel like myself… and a few more weeks for my hips to feel closer to normal.
At each stage I put in the work that I could afford. Initially, it was light strength training… then soon enough cardio to tackle those 60lbs. The key was understanding what I wanted from my body and knowing what to expect. I was determined, so with focused efforts and no stress, the scale began to look familiar again and I started recognizing the lady in the mirror.
So at whatever point you are in your fitness journey, keep calm and let's do this! What has your fitness journey been like so far? What challenges do you face? Would love to hear all about it in the comment section below.